Current Real Estate Tendencies in Debrecen
Between 2014 and 2019 Hungary's Real Estate prices have skyrocketed at nearly sixty eight percent, which is a tremendous growth, even in a European perspective. Wages rose, mortgages expanded and the new state policies regarding family and tax issues have all contributed to a leap in the market.
The announcement of the BMW factory's settling in Debrecen has provided a unique situation. Most people expected the factory's presence to have a rising effect on real estate prices as the Audi factory did in Győr. This came to pass, demand grew, and sellers rose their prices- sometimes with millions.
Thanks to the city's innovations and hard work on the field of infrastructure, industry and human resources, companies such as Krones, Continental and BMW have settled in the city in the past few years.
This attracts other foreign and hungarian companies to Debrecen, stimulating economic growth and business potential. The Cívis City can further develop it's industrial parks and other business concepts, where new companies can settle besides the existing ones. Therefore, the development of the economy will bring along the development of the Real Estate market.
However, by the summer of 2019, the constant rise of prices have slowed down, and a market adjustment began, especially when it comes to blocks of flats. Here we can spot prices that have dropped with even 4-5 million forints in the past few months. For example, flats of 68 sq meters that have been sold for 29 million, now are going for 23-24 million. Prices of the used brick flats have dropped significantly less. Most sellers wait out with reducing their prices and try to sell their property on the highest price margin possible. This contributes to a delay in the selling time for even months, which distorts market prices.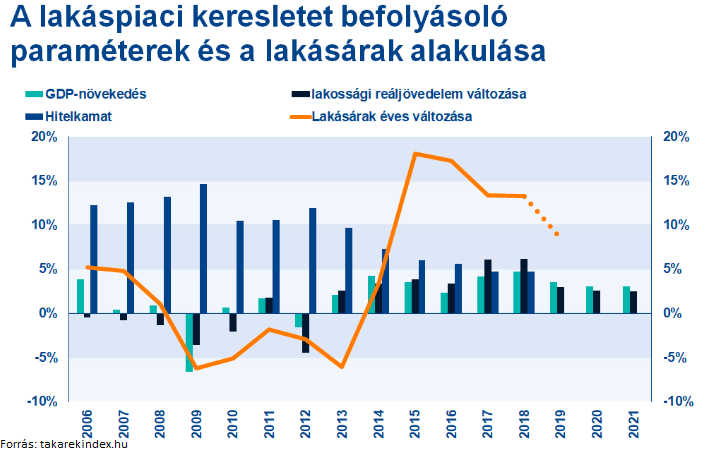 Due to the large number of University students in Debrecen, prices of brick flats have dropped minimally. However, prices of recently built condos have shown a rise. These flats are being advertised on a six-seven hundred thousand/ sq meter price, but some higher quality properties can be found on an even higher- 800 thousand and a million Huf price range.
Most developers refrain from starting new projects, since VAT rates have increased to 27 percent. The properties that have a 5 percent VAT rate are preferred among buyers. Hence, developers wait until these properties run out of the market to begin a new project, given that the 22 percent increase slows selling time as long as clients can purchase on a lower VAT rate.
The rentals market is also freshening, as most older flats have been renovated and rented out on a higher price, Condos close to the University and tram lines are still attractive to Lessors. While a couple years ago a 55sq meter flat could be found for 60-70 thousand, now they go on a 110-120 thousand price range., whilst newly built high quality flats are rented at 140-170 thousand forints.